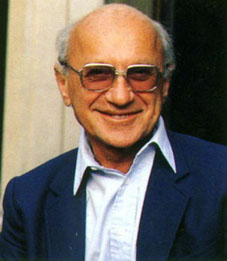 What kind of a world would it be if everybody was an absolute identical duplicate of anybody else. You might as well destroy the whole world and just keep one specimen left for a museum. In the same way, it's unfair that Muhammad Ali should be a great fighter and should be able to earn millions. But would it not be even more unfair to the people who like to watch him if you said that in the pursuit of some abstract idea of equality we're not going to let Muhammad Ali get more for one nights fight than the lowest man on the totem pole can get for a days unskilled work on the docks. You can do that but the result of that would be to deny people the opportunity to watch Muhammad Ali. I doubt very much he would be willing to subject himself to the kind of fights he's gone through if he were to get the pay of an unskilled docker.
-Milton Friedman, from
Created Equal
, an episode of the PBS
Free to Choose
television series (1980, vol. 5 transcript).