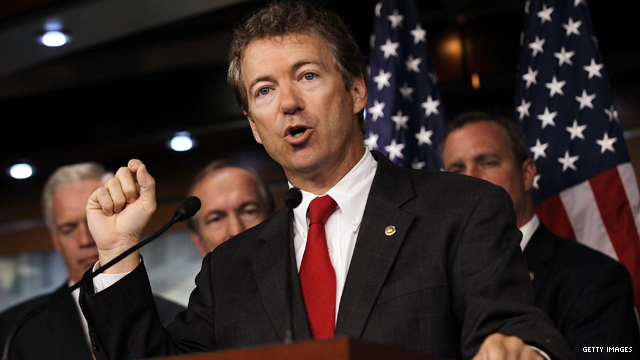 UPDATE
:
Lonely Conservative reports
the following GOP senators ate dinner with Obama during the filibuster: In no particular order, those senators dining with Obama were John McCain, Lindsey Graham, Ron Johnson, Tom Coburn, Kelly Ayotte, Mike Johanns, Pat Toomey, Saxby Chambliss, John Hoeven, Dan Coates and Richard Burr.
Yesterday, history was made by Rand Paul and a few other senators to
filibuster President Obama's nominee for director of the Central Intelligence Agency, John Brennan. He spoke for 13 hours yesterday.

Excerpt from the first hour transcript:

"I rise today to begin to filibuster John Brennan's nomination for the CIA I will speak until I can no longer speak. I will speak as long as it takes, until the alarm is sounded from coast to coast that our Constitution is important, that your rights to trial by jury are precious, that no American should be killed by a drone on American soil without first being charged with a crime, without first being found to be guilty by a court. That Americans could be killed in a cafe in San Francisco or in a restaurant in Houston or at their home in bowling green, Kentucky, is an abomination. It is something that should not and cannot be tolerated in our country. I don't rise to oppose John Brennan's nomination simply for the person. I rise today for the principle. The principle is one that as Americans we have fought long and hard for and to give up on that principle, to give up on the bill of rights, to give up on the Fifth Amendment protection that says that no person shall be held without due process, that no person shall be held for a capital offense without being indicted. This is a precious American tradition and something we should not give up on easily. They say Lewis Carroll is fiction. Alice never fell down a rabbit hole and the White Queen's caustic judgments are not really a threat to your security. Or has America the beautiful become Alice's wonderland? 'No, no, said the queen. Sentence first; verdict afterwards. Stuff and nonsense, Alice said widely - loudly. The idea of having the sentence first? 'Hold your tongue, said the queen, turning purple. I won't, said Alice. Release the drones, said the Queen, as she shouted at the top of her voice.

Lewis Carroll is fiction, right? When I asked the President, can you kill an American on American soil, it should have been an easy answer. It's an easy question. It should have been a resounding and unequivocal, "no." The President's response? He hasn't killed anyone yet. We're supposed to be comforted by that.

The President says, I haven't killed anyone yet. He goes on to say, and I have no intention of killing Americans. But I might. Is that enough? Are we satisfied by that? Are we so complacent with our rights that we would allow a President to say he might kill Americans? But he will judge the circumstances, he will be the sole arbiter, he will be the sole decider, he will be the executioner in chief if he sees fit. Now, some would say he would never do this. Many people give the President the - you know, they give him consideration, they say he's a good man. I'm not arguing he's not. What I'm arguing is that the law is there and set in place for the day when angels don't rule government. Madison said that the restraint on government was because government will not always be run by angels. This has nothing, absolutely nothing to do with whether the President is a Democrat or a Republican. Were this a Republican President, I'd be here saying exactly the same thing. No one person, no one politician should be allowed to judge the guilt, to charge an individual, to judge the guilt of an individual and to execute an individual. It goes against everything that we fundamentally believe in our country. "
You can read more of the transcripts for the other hours here.
What were senators Lindsey Graham and John McCain doing? Read
this from Red State
:
Rand Paul has done a brilliant thing filibustering the President's appointment to the CIA.

By keeping the filibuster going through prime time, Rand Paul forced ABC, CBS, and NBC — chief sources of news for low information voters — to cover the issue.

Along the way, Rand Paul had help giving him time to rest his voice. Ted Cruz came down a few hours in to give Paul a break. Mike Lee and Jerry Moran came in. Cruz read tweets in support of Paul.

Mark Kirk, who returned to the Senate a short while back after a very bad stroke, came in to support Rand Paul.

Even Democratic Senator Ron Wyden of Oregon joined in the filibuster.

Meanwhile, Lindsey Graham and John McCain went to eat dinner with the President. That speaks for itself.
The Blaze
reports John Cusack as saying this during the filibuster: "where are Democrats?"
Breitbart reports that
John Stewart stands with Rand Paul
"He's using the filibuster in the way it's supposed to be used," Stewart cracked as the audience tittered nervously."
I'm proud of Rand Paul and those who backed him yesterday. It was a good day for freedom.
Check out
Heritage's report
and Cato's
Game of Drones
.